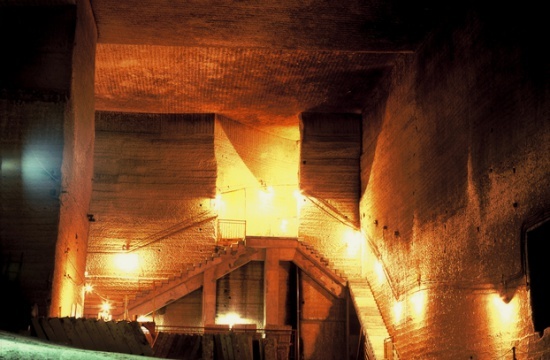 OHYA HISTORY MUSEUM TOUR
Ohya in Tochigi prefecture is well-known for ancient stone quarry.
This tour offers travelers the chance to experience the fascinating huge underground which is 30m depth and spreading out about 20,000㎡.
Discover the wonder of landscape that could be found only here, where filming spots for movies and TV dramas took place.

Make your reservation now !

This tour includes reserved seat of JR bullet train, entrance ticket of Ohya history museum and hot spring plus indoor spa at Utsunomiya Romantic Village.


Website reservation click here (more details)
*JR-East View HP⇒
 【JR付日帰りツアー】なつとち 道の駅 ろまんちっく村/「石の里」大谷 巨大地下空間

  
※ Telephone reservation
 Contact number: +81-3-3843-2001  Weekdays:9:30~18:00 Weekends: 10:00~18:00
※ If you don't need JR tickets, please contact Enishi Travel (+81-28-689-8782)

日程

■Term: July 1 (Sun.)- August 9 (Thu.) and August 17(Fri.) - September 30(Sun.), 2018
時間

■Meeting time & place:
10:00am Chisan Hotel at JR Utsunomiya Station west gate (Bus pick up)
旅行代金

■Fee:
9,200yen per person (12 years or older)
4,800yen for children (6-11 years old)

※ This rate is based on participants from JR Tokyo Station(2 ways)
※ Acutal fee depends on depature station.
※ Extra charges for children between 3-5 years old --- Hot spring 200yen, Indoor spa 460yen, Both 560yen
Inside the museum

Inside the museum
■information:
-Tour minimum 2 persons
-300yen coupon of Ohya Museum Rock Sidemarket (Not refundable)
-English speaking guide
※ Please let us know in advance if you don't need guides.
-Public indoor spa and hot spring Open 10:00am - 9:00pm
※ Please wear swimsuit and swimcup at indoor spa (rental available)
※ Children under 3 years old and children with diapers are not allowed in the spa.
※ Children under 10 years old must be accompanied by guardians in the spa.



July 1 - August 9 and August 17 - September 30
10:00 Chisan Hotel at JR Utsunomiya Station west gate (pick up)
↓
10:40 Utsunomiya Romantic Village (by bus)  
↓
10:50 Departure from Romantic Village  
↓
11:00 Ohya History Museum  
↓
12:30 Departure from Ohya History Museum
↓
12:40 Utsunomiya Romantic Village (Free Time)
※ Free transportations
… JR Utsunomiya Station to Utsunomiya Romantic Village (tour bus)
and Utsunomiya Romantic Village to JR Utsunomiya Station (free ticket of public transportation)
※ JR schedule refers to website


■旅行企画・実施
えにしトラベル 本社営業所
栃木県知事登録旅行業第2-677号国内旅行業務取扱管理者: 笹川倫広 えにしトラベル(株式会社ファーマーズ・フォレスト)
〒321-2118 宇都宮市新里町丙254番地(道の駅うつのみやろまんちっく村内)
担当者の説明に不明な点があれば、旅行業務取扱管理者(当営業所での取引責任者)にご質問ください。
■お電話によるお申し込み


受付時間 / 10:00~18:00